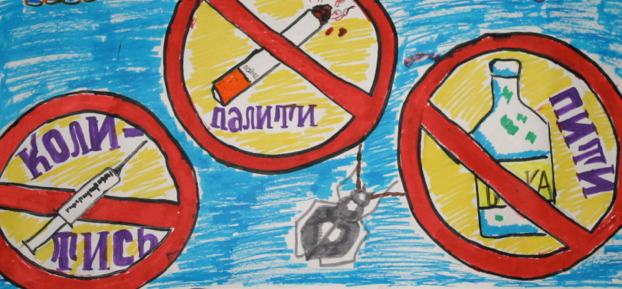 This a selection of some of the best posters made by my students during my health maysternyi in the years 1998-2004 which have survived.  (Hanging them and taking them down again every year takes its toll on paper.)  They were allowed to pick any health related subject.  Favorite topics included smoking, alcohol abuse, narcotic abuse, and sports/healthy lifestyle.  Some chose to focus on hygiene, especially dentistry, and a certain group chose to go for hand-washing.

There are a lot of cartoon characters; children are encouraged to draw such characters in school art classes.  many of the internaty are decorated with murals of these creatures.   

My partner in the years 2002-2004, Irka, spent a good bit of time on the subject, and included a demonstration with a black light.  She handed out coloring sheets with pictures of boys and girls washing their hands.  Some colored them in; others copied the drawings for their posters.  A few added legs; an especially creative student put them at a table together, with hands in the hand-washing position, but getting ready to drink alcohol.  Adaptive re-use?

A few students even extended the concept of health to include the health of the planet, with anti-littering and save the earth themes. 

Peruse, enjoy, and learn.